ArtQuake The Most Disruptive Works in Modern Art
, by Unknown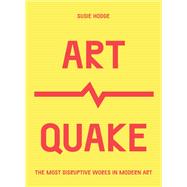 Note: Supplemental materials are not guaranteed with Rental or Used book purchases.
ISBN: 9780711254763 | 0711254761
Cover: Paperback
Copyright: 1/25/2022
Discover art that dared to be different, risked reputations and put careers in jeopardy. This is what happens when artists take tradition and rip it up.
 
ArtQuake tells the stories of 50 pivotal works that shook the world, telling the fascinating stories behind their creation, reception and legacy.

The books begin with the rebels who struck out against Victorian conformism, daring painters and sculptors like Manet and Rodin, Van Gogh and Courbet, who experimented with expressionist and realist art styles as well as controversial subjects.

Moving into the fin de siècle and the 20th century, we study the truly iconic works and turbulent lives of artists like Munch and Klimt, Picasso and Egon Schiele, whose work into abstraction, surrealism and cubism shocked and scandalized, but ultimately changed the course of western art forever.

Moving into the second half of the 20th Century, we see spectacular works of conceptual rebellion, absurdity and political protest, from Andy Warhol and the Pop Art movement to Marina Abramovic, whose often visceral and violent works of performance art laid bare the savagery of the patriarchy and the human condition.

In the 21st century, we see how iconoclastic creators have pushed the boundaries of art even further, from Banksy to Louise Bourgeoise, from self-destructing paintings to experimental works of computerized art.

Complete with beautiful reproductions of their iconic works, as well as a glossary of terms and movements at the back, meet the huge egos, uncompromising feminists, gifted recluses, spiritualists, anti-consumerists, activists and satirists who have irrevocably carved their names into the history of art around the world.

In telling the history of modern and contemporary art through the works that were truly disruptive, and explaining the context in which each was created, ArtQuake demonstrates the heart of modern art, which is to constantly question and challenge expectation. 

This book is from the Culture Quake series, which looks into iconic moments of culture which truly created paradigm shifts in their respective fields. Also available is FilmQuake, which tells the stories of 50 key films that consciously questioned the boundaries, challenged the status quo and made shockwaves we are still feeling today.