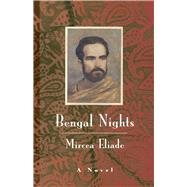 Note: Supplemental materials are not guaranteed with Rental or Used book purchases.
ISBN: 9780226204192 | 0226204197
Cover: Paperback
Copyright: 4/1/1995
Set in 1930s Calcutta, this is aroman aacute; clefof remarkable intimacy. Originally published in Romanian in 1933, this semiautobiographical novel by the world renowned scholar Mircea Eliade details the passionate awakenings of Alain, an ambitious young French engineer flush with colonial pride and prejudice and full of a European fascination with the mysterious subcontinent. Offered the hospitality of a senior Indian colleague, Alain grasps at the chance to discover the authentic India firsthand. He soon finds himself enchanted by his host's daughter, the lovely and inscrutable Maitreyi, a precocious young poet and former student of Tagore. What follows is a charming, tentative flirtation that soon, against all the proprieties and precepts of Indian society, blossoms into a love affair both impossible and ultimately tragic. This erotic passion plays itself out in Alain's thoughts long after its bitter conclusion. In hindsight he sets down the story, quoting from the diaries of his disordered days, and trying to make sense of the sad affair. A vibrantly poetic love story,Bengal Nightsis also a cruel account of the wreckage left in the wake of a young man's self discovery. At once horrifying and deeply moving, Eliade's story repeats the patterns of European engagement with India even as it exposes and condemns them. Invaluable for the insight it offers into Eliade's life and thought, it is a work of great intellectual and emotional power. "Bengal Nightsis forceful and harshly poignant, written with a great love of India informed by clear-eyed understanding. But do not open it if you prefer to remain unmoved by your reading matter. It is enough to make stones weep." Literary Review Mircea Eliade (1907-1986) was the Sewell L. Avery Distinguished Service Professor in the Divinity School and the Committee on Social Thought at the University of Chicago. Many of his scholarly works, as well as his two-volume autobiography and four-volume journal, are published by the University of Chicago Press. Translated into French in 1950,Bengal Nightswas an immediate critical success. The film,Les Nuits Bengali, appeared in 1987.