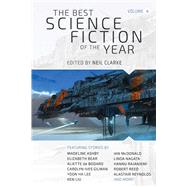 Note: Supplemental materials are not guaranteed with Rental or Used book purchases.
ISBN: 9781597809887 | 1597809888
Cover: Paperback
Copyright: 7/2/2019
Thrilling, smart, and brilliant short science fiction from Simone Heller, Ken Liu, Ian McDonald, and many more.
A human detective and their partner, an enhanced chimpanzee, investigate a strange murder on the subway . . . a smart home goes into lockdown, turning a man's own home into his prison . . . at a robot factory, something has caused the machines to attempt to escape . . . mysterious seeds raining down from deep space could be the first sign of an alien invasion . . . a woman seeks to restore a broken AI, hoping it can help return humanity to better days . . .
For decades, science fiction has compelled us to imagine futures both inspiring and cautionary. Whether it's a warning message from a survey ship, a harrowing journey to a new world, or the adventures of well-meaning AI, science fiction inspires the imagination and delivers a lens through which we can view ourselves and the world around us. With
The Best Science Fiction of the Year: Volume Four
, award-winning editor Neil Clarke provides a year-in-review and twenty-nine of the best stories published by both new and established authors in 2018:
When We Were Starless—Simone Heller
Intervention—Kelly Robson
All the Time We've Left to Spend—Alyssa Wong
Domestic Violence—Madeline Ashby
Ten Landscapes of Nili Fossae—Ian McDonald
Prophet of the Roads—Naomi Kritzer
Traces of Us—Vanessa Fogg
Theories of Flight—Linda Nagata
Lab B–15—Nick Wolven
Requiem—Vandana Singh
Sour Milk Girls—Erin Roberts
Mother Tongues—S. Qiouyi Lu
Singles' Day—Samantha Murray
Nine Last Days on Planet Earth—Daryl Gregory
The Buried Giant—Lavie Tidhar
The Anchorite Wakes—R.S.A. Garcia
Entropy War—Yoon Ha Lee
An Equation of State—Robert Reed
Quantifying Trust—John Chu
Hard Mary—Sofia Samatar
Freezing Rain, a Chance of Falling—L.X. Beckett
Okay, Glory—Elizabeth Bear
Heavy Lifting—A.T. Greenblatt
Lions and Gazelles—Hannu Rajaniemi
Different Seas—Alastair Reynolds
Among the Water Buffaloes, a Tiger's Steps—Aliette de Bodard
Byzantine Empathy—Ken Liu
Meat and Salt and Sparks—Rich Larson
Umbernight—Carolyn Ives Gilman