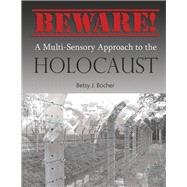 Note: Supplemental materials are not guaranteed with Rental or Used book purchases.
ISBN: 9798350923728 | 8350923725
Cover: Paperback
Copyright: 11/7/2023
Beware!...A Multi-Sensory Approach to the Holocaust is a non-fiction work slated for anyone interested in the Holocaust but especially for educators and their pupils (particularly students of middle and high school level.)

Its purpose of the text is to have the reader experience a visceral accounting of the insanity that was this period in history. Nothing can begin to duplicate the real feelings of those who experienced the slaughter and the terror associated with this time. No one can truly describe what it was like to be a Jew trying to survive from the 1930's to the end of World War II and after. The intention of this book is a sensory representation based on the voices of those who were there. A reader's exposure to the images of the Holocaust experience serves to transform or create an individual's understanding.

It is a detailed multi-sensory vehicle which allows readers the opportunity of "seeing, hearing, smelling, touching, and tasting" this infamous era. The objective is to allow the reader to experience this crucial time on a gut level— and getting to the readers "where they live."

This book is not a list of people, battles, chronologies, or historical or political leaders. The structure of this book is an attempt to replicate the organized chaos that plagued the environment in which Jews found themselves throughout Europe. This includes the aftermath of the War and resettlement in a country where they could be assimilated and treasured.

The ultimate goal is letting the reader think about the perpetrators and the victims of "the world's longest hate." Considering that the National Crime Prevention Council's latest statistics report that twenty to forty-three percent of middle and high school students have reported being victims of cyberbullying, irrespective of other types of bullying, it is especially important to see how destructive disparagement and maltreatment can be and where it can lead in society. There should be no sanction for bullying, harassment, and intimidation in our public and private schools on our playgrounds or buses, on our college campuses or in our government and public institutions. The final objective: there are consequences to actions, as well as the absence of them.

You don't have to be Jewish to understand the gravity of the effects of the Holocaust— on individuals or society as a whole. As the events of this time period become more distant, we bear the awesome task and responsibility of meaningfully conveying the memory and legacy of the Holocaust to the generations which follow.

This is an emotional text and not an easy one to read; it is however, a necessary one.