Black & Decker The Hardworking Home A DIY Guide to Working, Learning, and Living at Home
, by
Johanson, Mark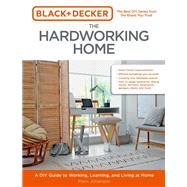 Note: Supplemental materials are not guaranteed with Rental or Used book purchases.
ISBN: 9780760372777 | 0760372772
Cover: Paperback
Copyright: 5/24/2022
The Hardworking Home presents a wide range of achievable home improvements that will help you upgrade your home to better meet your needs in this shifting world.
From home office to home school to home entertaining, today's households have necessarily become functional microcosms of society. Before the pandemic, less than five percent of full-time employees worked remotely from home. At the height of the outbreak, more than half did. And even when the dust has settled, it is estimated that at least a quarter of us will be performing our jobs from offices in our homes. Distance learning also will endure as an important educational tool. And while we back into less restrictive social distancing guidelines, it nevertheless makes sense to create a fun, vibrant atmosphere for entertaining ourselves and our guests within the safe confines of our homes.
Some of the projects in The Hardworking Home are quite simple and others require a little more DIY experience. But the overriding commonality is that they have been curated with the forward-looking filter of making our lives better, more efficient, and more satisfying in a changing world landscape. Content includes:
Introduction
How we got here
Goals and considerations
Where to work?
Distance learning
Multipurpose spaces
Repurposing what you already have

Adapting Space
Lamps and lighting choices
Wall color and painting
Practical home décor
Noise reduction
Air quality and whole-house ventilation
Furnishings
Separation tips for open spaces
Making room for recess and relaxation
Private spaces for external communication
Work-related meeting areas
Technology issues (Wi-Fi and beyond)
Ergonomic solutions for working at the dining table
Protecting furnishings and surfaces
Efficient ways to stash your stuff
Working together
Convertible work spaces and desktops
Partition wall
Modifying countertops and cabinets
Tambour hideaway (protecting electronics and equipment)
Pantry conversion
Island bumpout
Slide-out work surfaces (and keyboard trays, printer bays, etc.)
Under-cabinet lighting
Under-cabinet storage
Cord management
Adapting dining rooms
Adapting kitchens
Adapting family rooms
Creating activity/recess areas
Movable work centers
Dividing space
Workspace under loft bed
Corner workspace
Creating living/working space separation
Adapting bedrooms
Renovating a spare room 

Creating Space
Renovating a spare room (Features: ways to improve lighting)
Creating an office in an unfinished basement (Features: furring walls, suspended ceiling, raised subfloor panels)
Closet office conversion
Renovating a garage (Features: garage floor refinish, new garage window, garage skylight, storage projects)
Making an outbuilding habitable (Features: making a shed livable)
Feature project: closet office

Easy DIY Projects
Rolling
Modular
Drop-down
Kids
Space-saving
Rolling
Hidden
File-friendly
Room dividers
Plexiglass protectors
Carrel curtains
Desks
Storage
Privacy barriers