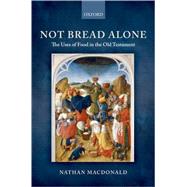 Note: Supplemental materials are not guaranteed with Rental or Used book purchases.
ISBN: 9780199546527 | 0199546525
Cover: Hardcover
Copyright: 11/15/2008
In ancient Israel the production of food was a basic concern of almost every Israelite. Consequently, there are few pages in the Old Testament that do not mention food, and food provides some of the most important social, political and religious symbols in the biblical text. Not Bread Alone is the first detailed and wide-ranging examination of food and its symbolism in the Old Testament and the world of ancient Israel. Many of these symbols are very well-known, such as the forbidden fruit in the Garden of Eden, the abominable pig and the land flowing with milk and honey. Nathan MacDonald demonstrates that the breadth biblical symbolism associated with food reaches beyond these celebrated examples, providing a collection of interrelated studies that draw on work on food in anthropology or other historical disciplines. The studies maintain sensitivity to the literary nature of the text as well as the many historical-critical questions that arise when studying it. Topics examined include: the nature and healthiness of the ancient Israelite diet; the relationship between food and memory in Deuteronomy; the confusion of food, sex and warfare in Judges; the place of feasting in the Israelite monarchy; the literary motif of divine judgement at the table; the use of food in articulating Israelite identity in the post-exilic period. The concluding chapter shows how some of these Old Testament concerns find resonance in the New Testament.