Cajas De Carton : Relatos De LA Vida Peregrina De UN Nino Campesino / Cardboard Boxes : Stories From the Life of a Child Migrant Farmer: The Circuit
, by
Jimenez, Francisco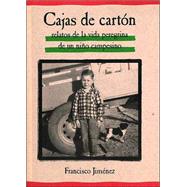 Note: Supplemental materials are not guaranteed with Rental or Used book purchases.
ISBN: 9780618226160 | 0618226168
Cover: Paperback
Copyright: 9/30/2002
Maturity means breaking through the cocoon into freedom for Panchito, whose adolescence is described in this sequel to The Circuit: Stories from the Life of a Migrant Child (Houghton, 2001). The simplicity of life and the unending work for the whole family continues here, but is mitigated by Panchito's increased awareness and gradual loss of innocence as he learns to make his life a success. His father's bitterness, pain, and need for unquestioning obedience is matched by his mother's ability to coax agreement out of her son. The clash of cultures between teen insolence in the U.S. and Mexican respect for elders' authority is vividly portrayed, as is the injustice and casual bigotry often endured by young and old. Fortunately, the protagonist, now often known as Frankie, finds friends and employers willing to recognize his strength of character and ability. While sure to be inspiring and reassuring to readers mesmerized by the first book, this follow-up lacks the intensity and voice so memorable in that one, and is consequently less affecting. Still, Jim'nez ably helps readers see the world of 1950s and 1960s California through adolescent eyes. Rock 'n' roll, Kennedy versus Nixon, the old-boy network of service clubs, the humiliation of deportation, and the painful struggle to have the right clothes are among the pieces of that world that readers see with a startling clarity from a new perspective. The photos at the end are great additions.