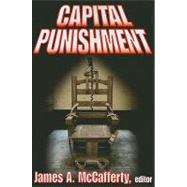 Note: Supplemental materials are not guaranteed with Rental or Used book purchases.
ISBN: 9780202363288 | 0202363287
Cover: Nonspecific Binding
Copyright: 11/15/2009
Numerous people face legal execution in the United States.Their presence in death rows throughout the countryrefutes a basic premise of our judicial system, for the useof capital punishment denies the existence of universalrehabilitation. There is another paradox-juries continueto sentence men and women to death; yet few ever get executed.Whether one is for or against capital punishment,one cannot approach the issue without deep emotion andconviction. James McCafferty provides an even-tempered,eminently reasonable discussion of the issue with balancedcommentary from both sides of the debate.McCafferty presents not only empirical data andanalyses of the nature of capital punishment, but providesperspectives on the larger issues of our approach to lawbreakersand their rehabilitation. The claims of both thosewho want to retain capital punishment and those whowant to abolish it are included. The arguments considerwhether capital punishment deters crime as well as thequestion of discrimination. A wealth of references, anextremely useful bibliography, and a final chapter delineatingthe legal issues facing the courts at the time the bookwas originally published in 1972 complete this unusuallyincisive and balanced study.Capital Punishment remains an important volume inthe field of criminal justice. It seeks to educate rather thanpropagandize. It is intended for use in numerous coursesin sociology and political science as well as in law schools.Anyone wishing to gain a perspective on what remains acontroversial issue more than thirty years later would bewell advised to study this work by world-class scholars.