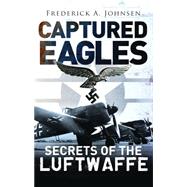 Note: Supplemental materials are not guaranteed with Rental or Used book purchases.
ISBN: 9781782003687 | 1782003681
Cover: Hardcover
Copyright: 10/21/2014
In Captured Eagles, Frederick A. Johnsen lays bare the once secret history of the American effort to understand and counter the Luftwaffe before and during World War II, and afterward to seize and exploit German technological advances in everything from jet fighters and bombers to ballistic missiles.
Even before World War II, U.S. Army Air Force commanders were gravely concerned about the technological lead that German aviation seemed to hold. Once America entered the war, they were desperate to learn the secrets and capabilities of the Luftwaffe. From German defectors to battlefield trophies to combat action reports, the race to understand the Luftwaffe's technology took on heroic proportions. But even the end of the war didn't lessen the urgency of acquiring German technology. American intelligence teams scoured Europe to bring home the jewels of German aviation, from jet aircraft such as the Me 262 that far exceeded almost any aircraft in the Air Force's inventory, to ballistic missiles such as the V2 that were beyond anything the Allies possessed. This would be the technological foundation of American air power during the Cold War, and even give the U.S. the boost it needed to win the Space Race and land on the Moon.
Drawing on rarely seen historical sources such as Air Force technical documents, as well as first person accounts from the airmen and engineers who were there, author Frederick A. Johnsen, tells the history of one of the most fascinating periods in both American and German aviation history.