Casino-ology The Art of Managing Casino Games
, by
Zender, Bill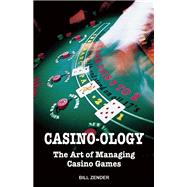 Note: Supplemental materials are not guaranteed with Rental or Used book purchases.
ISBN: 9780929712277 | 0929712277
Cover: Paperback
Copyright:
Bill Zender knows the art of casino management. In addition to having worked in, managed, and owned casinos for decades, he's been an enforcement agent for the Nevada State Gaming Control Board, as well as spending time as an advantage player, exploiting the vulnerabilities of casinos from the civilian side of the tables. Today, he travels the globe consulting for the international casino industry. In Casino-ology, Zender argues against excessive card-counter and shuffle-tracker countermeasures in favor of hand production to increase profits, and concludes that rhythmic dice rollers aren't the threat they're made out to be. He details the dangers of customer-service breaches; ill-conceived non-negotiable-chip programs; and past-posting, marked-card, and false-shuffle cheating scams. He addresses player tracking systems, 6-5 payouts for blackjacks, the subtleties of marketing to Asian customers, nuances of the derivative pit games, even the science of turning around a distressed casino. By challenging long-cherished conventions, Casino-ology provides contrarian and radical, but proven, solutions to common gaming issues, all in the service of refining the art of casino management.