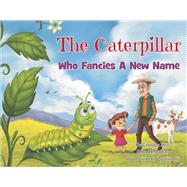 Note: Supplemental materials are not guaranteed with Rental or Used book purchases.
ISBN: 9798350920772 | 8350920777
Cover: Hardcover
Copyright: 10/12/2023
In the heartwarming tale "The Caterpillar Who Fancies A New Name," penned by the multi-talented John Martin, also known for his roles in American film and television, readers are swept into a charming meadow adventure. Grandpa Moo and his curious granddaughter Luna embark on a leisurely stroll through the meadow, stumbling upon the remarkable Squiggly— an adorable caterpillar who possesses the unique ability to talk. Squiggly, with unwavering confidence, declares his intent to fly, even though Luna remains skeptical, noting his lack of wings. Undeterred, Squiggly is resolute in his belief that his transformation will occur through patient introspection within his cocoon.

As the days unfold, Luna and Grandpa Moo become frequent visitors to Squiggly's cocoon, creating an endearing routine. While Grandpa Moo playfully communicates with the cows in his signature manner (which earned him the endearing name Grandpa Moo), Luna watches over Squiggly's evolving journey. A pivotal moment arises when Luna's younger siblings join the expedition, ushering in the advent of a remarkable miracle. With the emergence of wings, Squiggly's long-held aspiration is realized, but not without a twist. As his wings unfurl, so does an unexpected transformation of his ego, leading to a newfound set of challenges.

John Martin, renowned for his versatile talents as an American film and television actor, seamlessly transitions to the realm of children's literature as the creative force behind "The Caterpillar Who Fancies A New Name." This heartwarming tale mirrors the transformative power of self-belief and the beauty of growth, wrapped in an engaging narrative that captures the essence of wonder and discovery.