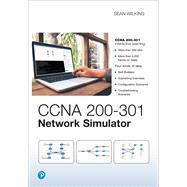 Note: Supplemental materials are not guaranteed with Rental or Used book purchases.
ISBN: 9780136627074 | 0136627072
Cover: Nonspecific Binding
Copyright: 8/10/2020
CCNA Interactive Learning:
More than 300 labs
More than 4,000 hands-on tasks
Four Kinds of Labs:
Skill Builders
Subnetting Exercises
Configuration Scenarios
Troubleshooting Scenarios
The CCNA 200-301 Network Simulator is a single-user software package. It helps you develop and improve hands-on configuration and troubleshooting skills without the investment in expensive lab hardware. This state-of-the-art, interactive simulation software enables you to practice your networking skills with more than 300 structured labs designed to help you learn by doing, the most effective method of learning.
Experience realistic network device responses as you performeach lab, which include detailed instructions, topology diagrams,critical-thinking questions, hints, and answers. Working through the labs,you will quickly become proficient with all the common Cisco IOS version 15 router and switch commands on the CCNA exam. Unlike other simulators on the market, the lab scenarios included in the CCNA 200-301 Network Simulator are far more complex, challenging you to learn how to perform real-world network configuration and troubleshooting tasks.
Master the hands-on skills needed to succeed on the CCNA exam, including:
Network fundamentals
Network access
IP connectivity
IP services
Security fundamentals
IP Subnetting
Skill Builders:

These 175+ labs are narrowly focused, enabling you to practice your configuration skills on a single topic. Coverage includes:
Interface settings and status
Router and Switch CLI Exec Mode and config process
Telnet, Ping, Traceroute, and terminal history
Switch IP address, connectivity, and forwarding
PC IP commands
Configuring IP addresses
Subnet Zero
IP addressing and IPv6 address configuration
CDP and LLDP
VLANs and Trunking
Router-on-a-stick
STP and MLS
Static and Dynamic EtherChannel
Wireless LAN Controllers
Connected, static, and default routes
OSPF
SSH
NAT
NTP
Router and switch security fundamentals
ACL
CHCP
Dynamic ARP
Port security
IOS backup
Subnetting Exercises:
These 80 labs help you to perform subnetting calculations quickly and accurately, a critical skill for success on the CCNA exam. Topics covered include:
IPv4 and IPv6 subnet ID calculation
IP address rejection
IP route selection
VLSM overlaps
IPv6 EUI-64 calculation
Selecting VLSM routes
Configuration Scenarios:
These 40+ labs are more broadly focused, combining multiple technologies into configuration scenarios that mimic real-world environments. These labs are longer and more complex,challenging you to put your configuration skills to the test. Topics covered include:
IP and MAC comparisons
Switch IP connectivity and security
Subnetting and addressing
IP addressing and configuration
IPv6 configuraiton
Switch interfaces and forwarding
VLAN trunking
STP analysis, configuration, and prediction
Wireless LAN Controllers
Static routing
Configuring default routes
OSPF
Router-on-a-stick to MLS
SSH and Telnet
NAT
ACL
Password recovery
Rebuilding a configuration
Troubleshooting Scenarios:
These 18 labs present typical troubleshooting scenarios and require you to explore the misconfigured network, isolate the issues, and correct the problems. These are very complicated and realistic scenarios that truly test your ability to perform the job of a network engineer. Topics covered include:
Switch forwarding
Path analysis and troubleshooting
IPv4/IPv6 addressing
IP routing
OSPF
VLAN troubleshooting
STP
Network discovery
Port security