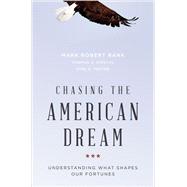 Note: Supplemental materials are not guaranteed with Rental or Used book purchases.
ISBN: 9780190467029 | 0190467029
Cover: Paperback
Copyright: 3/1/2016
The United States has been epitomized as a land of opportunity, where hard work and skill can bring personal success and economic well-being. The American Dream has captured the imagination of people from all walks of life, and to many, it represents the heart and soul of the country. But there is another, darker side to the bargain that America strikes with its people -- it is the price we pay for our individual pursuit of the American Dream. That price can be found in the economic hardship present in the lives of millions of Americans.

In Chasing the American Dream, leading social scientists Mark Robert Rank, Thomas A. Hirschl, and Kirk A. Foster provide a new and innovative look into a curious dynamic -- the tension between the promise of economic opportunities and rewards and the amount of turmoil that Americans encounter in their quest for those rewards. The authors explore questions such as:

-What percentage of Americans achieve affluence, and how much income mobility do we actually have?
-Are most Americans able to own a home, and at what age?
-How is it that nearly 80 percent of us will experience significant economic insecurity at some point between ages 25 and 60?
-How can access to the American Dream be increased?

Combining personal interviews with dozens of Americans and a longitudinal study covering 40 years of income data, the authors tell the story of the American Dream and reveal a number of surprises. The risk of economic vulnerability has increased substantially over the past four decades, and the American Dream is becoming harder to reach and harder to keep. Yet for most Americans, the Dream lies not in wealth, but in economic security, pursuing one's passions, and looking toward the future. Chasing the American Dream provides us with a new understanding into the dynamics that shape our fortunes and a deeper insight into the importance of the American Dream for the future of the country.