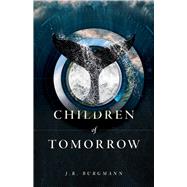 Note: Supplemental materials are not guaranteed with Rental or Used book purchases.
ISBN: 9781773371092 | 1773371096
Cover: Paperback
Copyright: 9/12/2023
"Children of Tomorrow is a vivid and disturbing vision of what could happen in this coming century if we don't respond well to the current polycrisis. It' s not a matter of end–of–everything apocalypse, but rather a continuous epic struggle to cope with wild change. Burgmann shows how the novel can be put back to its proper use describing history itself, by way of braided swift stories of people doing the epic work of survival. A novel to remember!" — Kim Stanley Robinson
"Five Stars. "Children of Tomorrow is an essential read. An emotionally heavy one, but with plenty of pay-off. Both along the way – the beautiful prose, the projected new technologies and creativity of human beings when facing the worst – and in the end, with the offer and acknowledgement that, in some form at least, things will continue." — Megan Payne, ARTS Hub (Australia)
Children of Tomorrow is a history of family and friendship that spans generations and geographies over a century of escalating climate change.
In 2016, Arne Bakker is working on a reforestation project in Tasmania shortly before bushfires sweep across the ancient wilderness. Elsewhere, London–born freedriver Evie Weatherall witnesses extreme climate events in her travels. Arne's close friend and Evie's Canadian cousin Wally, influencer, journalist, and musician, also sees a dangerous future forming. Meanwhile, Arne's brother Freddie, "a shredded poster boy for global environmental activism," is mobilizing his followers. When their paths collide, the group is set on course to witness and struggle together against the coming century.
Decades later, a new generation is living with the havoc wreaked by their parents and grandparents and they too must find ways to find hope for the future in an increasingly difficult present.
"Luminous, thoughtful, unflinching – there's a breathless relentlessness to the increasing carbon dioxide numbers that kept me flipping pages as if it were a thriller. But even as it portrays the disasters and collapses, it also portrays what's best about humanity: our capacity to hope, love, change, and forgive. A stunning and necessary addition to the existing oeuvre of climate change fiction." — Premee Mohamed, The Annual Migration of Clouds