CLASSROOM TO CRYPTO: A HIGH SCHOOL STUDENT'S FRONT-ROW SEAT TO BITCOIN'S BATTLE AGAINST TYRANNY AND BANKING PERILS
, by
Notaris, Austin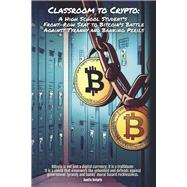 Note: Supplemental materials are not guaranteed with Rental or Used book purchases.
ISBN: 9798350908039 | 8350908033
Cover: Paperback
Copyright: 9/20/2023
The book explores the history of Bitcoin, starting with its creation by Satoshi Nakamoto. It highlights the catalysts behind Bitcoin's emergence, such as various global crises and the role of decentralized currency during these times. Austin discusses how Bitcoin can act as a protector against government tyranny and as an empowering tool for those in undeveloped nations.

It delves into the evolution of the internet from Web1 to Web3, highlighting how blockchain technology can disrupt current social media platforms. There's a detailed analysis of the technical aspects of Bitcoin, including Bitcoin mining, storage, trading, and its blockchain software. It also chronicles the journey of Bitcoin pioneers and key moments in Bitcoin's history.

The book does not shy away from addressing criticisms of Bitcoin, dispelling common myths and concerns such as Bitcoin's environmental impact and its perceived role as a speculative asset or a Ponzi scheme.

The book extends the discussion beyond Bitcoin, to Web 2.0 Ethereum, Web 3,0 faster blockchains, and the rise of Decentralized Finance (DeFi) - and its crash in Year 2022,

---
In 2009, the financial landscape was forever transformed by an enigmatic figure who called himself Satoshi Nakamoto. In the boundless expanse of cyberspace, Nakamoto embarked on a daring mission to redefine the world of finance. Troubled by tyranny and the unchecked power of traditional financial institutions – their insatiable greed and invasive practices – Nakamoto unleashed a digital phenomenon that would lay the foundation for an unprecedented financial revolution: Bitcoin.

Bitcoin was born out of a powerful blend of genius and necessity. With brilliant insight, Nakamoto orchestrated a complex symphony of algorithms and cryptographic ingenuity, crafting a masterpiece of digital autonomy. It wasn't just a currency; it was a manifesto for financial freedom. Bitcoin was designed to empower individuals, equipping them with the capacity to transact beyond the reach of banks and governments.

The genesis of Bitcoin occurred in the aftermath of the 2008 global financial crisis. When trust in traditional financial entities was crumbling, Nakamoto introduced Bitcoin's founding document, a whitepaper simply titled "Bitcoin: A Peer-to-Peer Electronic Cash System." This was not just an introduction; it was a declaration of financial liberation.

Unveiled on October 31, 2008, Bitcoin promised a world where money moved as effortlessly as a text message, bridging geographical divides and transcending political barriers. From Nakamoto's vision, a cryptocurrency was born that operated on a peer-to-peer basis, free from middlemen and intermediaries.

On January 3, 2009, Bitcoin was born, captivating the hearts and minds of early adopters and cryptography enthusiasts. Satoshi mined the first million bitcoins before slowly fading into the backdrop, entrusting the project to the capable hands of committed developers like Gavin Andresen.

Word of Satoshi's brainchild spread like wildfire, first whispering through obscure internet forums, and then, akin to a flaming phoenix, capturing the imaginations of tech aficionados and liberty-seeking libertarians. These pioneers, recognizing the potential of a world unchained from traditional currency, eagerly rallied to mine Bitcoin, their computers humming in harmonious unison....

The enchanting tale of Satoshi Nakamoto and the birth of Bitcoin is a saga of digital bravery, financial innovation, and cryptographic enchantment. It's a story that will inspire generations of dreamers, disruptors, and even the occasional meme lord, to challenge the status quo and reimagine the potential of our digital world.