Colonial America: A Very Short Introduction
, by
Taylor, Alan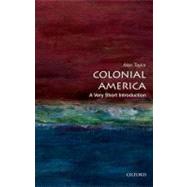 Note: Supplemental materials are not guaranteed with Rental or Used book purchases.
ISBN: 9780199766239 | 0199766231
Cover: Paperback
Copyright: 11/8/2012
By long convention, "American history" began during the early seventeenth century along the Atlantic Seaboard with the English colonies at Jamestown in Virginia and Plymouth in New England. From that eastern origin, America supposedly expanded westward, reaching only the Appalachian mountains by the end of the colonial period. In this version of history, earlier Spanish and contemporary French settlements seemed irrelevant except as enemies that brought out the best in the English as they remade themselves into Americans. Indians appeared only as wild and primitive peoples engaged in an ultimately futile resistance to American destiny. And historians formerly treated African slaves in passing as unfortunate aberrations in a fundamentally upbeat story of Englishmen becoming freer and more prosperous by colonizing an abundant continent of "free land." During the past generation, however, historians have broadened our understanding of colonial America by adopting both a trans-Atlantic and a trans-continental perspective, examining the interplay of Europe, Africa, and the Americas through the flows of goods, people, plants, animals, capital, and ideas. In this Very Short Introduction, Alan Taylor presents the current scholarly understanding of colonial America to a broader audience. American colonization derived from a global expansion of European exploration and commerce, beginning in the fifteenth century. In an Atlantic and global perspective, the English had to share the stage with the French, Spanish, Dutch, and Russians, each of whom created alternative Americas. By comparing the diverse colonies of rival empires, Taylor aims to recover what was truly distinctive about the English enterprise in North America. In particular, he intends to pay greater attention to slavery as central to the economy, culture, and political thought of the colonists and, by taking a "Continental approach," to restore the importance of native peoples to the colonial story. To adapt to the new land, the colonists needed the expertise, guidance, alliance, and trade of the Indians who dominated the interior. The new historical approach emphasizes the ability of the diverse natives to adapt to the newcomers and to compel concessions from them. In sum, colonial America produced an unprecedented mixing of radically diverse peoples--African, European, and Indian--under stressful circumstances for all. The colonial intermingling of peoples,microbes, plants, and animals from different continents was unparalleled in speed and volume in global history. Everyone had to adjust to a new world of unpredictable social and cultural hybrids that compromised and complicated the ambitious plans of empire-builders.