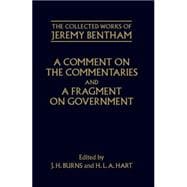 Note: Supplemental materials are not guaranteed with Rental or Used book purchases.
ISBN: 9780199553471 | 0199553475
Cover: Hardcover
Copyright: 1/15/2009
In the two related works in this volume, Bentham offers a detailed critique of William Blackstone's Commentaries on the Laws of England (1765-9). In "Comment on the Commentaries," on which Bentham began work in 1774, he exposes the fallacies which he claims to have detected in Blackstone, and criticizes the theory of the Common Law. He goes on to provide important reflections on the nature of law, and more particularly on the nature of customary and of statute law, and on judicial interpretation. A Fragment on Government, which was published in 1776, was detached from the "Comment on the Commentaries." Concentrating on a passage of five or six pages in which Blackstone discusses the origin of society and government, Bentham offers three main criticisms. First, he criticizes Blackstone's methodology for failing to distinguish between the role of the expositor and the role of the censor, and thereby confusing the question of what the law is with the question of what the law ought to be. Second, he criticizes Blackstone's assumption that the theory of the social contract represents an adequate justification of the obligation to obey government. Third, he criticizes Blackstone's theory of sovereignty, which claims that in every state there must exist some absolute, undivided power, whose commands are law. Bentham points to the existence of states where sovereign power is both divided and limited. In these two works, published by OUP for the first time, Bentham outlines a number of themes which he goes on to develop in his later works: the principle of utility; the importance of a "natural arrangement" for a legal system; the point at which resistance to government becomes justifiable; the exposition of legal terms; and much more. The volume also contains Bentham's "Preface" intended for, but not published in, the second edition of A Fragment on Government, which appeared in 1823. Having by this committed himself to political radicalism, Bentham uses this occasion to reflect on the text and the circumstances in which it was produced. The text has been edited by H.L.A. Hart and J.H. Burns, whose reputations in their respective fields of legal theory and history of political thought are unsurpassed. The volume contains an Editorial Introduction which explains the provenance of the text, and the method of presentation. The texts are fully annotated with textual and historical notes, and the volume is completed with a detailed subject index, based on a methodology devised by Hart.