Communicating Design Developing Web Site Documentation for Design and Planning
, by
Brown, Dan M.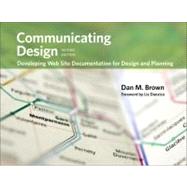 Note: Supplemental materials are not guaranteed with Rental or Used book purchases.
ISBN: 9780321712462 | 0321712463
Cover: Paperback
Copyright: 9/15/2010
Successful web design teams depend on clear communication between developers and their clients—and among members of the development team. Wireframes, site maps, flow charts, and other design diagrams establish a common language so designers and project teams can capture ideas, track progress, and keep their stakeholders informed.
In this all new edition of Communicating Design, author and information architect Dan Brown defines and describes each deliverable, then offers practical advice for creating the documents and using them in the context of teamwork and presentations, independent of methodology. Whatever processes, tools, or approaches you use, this book will help you improve the creation and presentation of your wireframes, site maps, flow charts, and other deliverables.
The book now features:
-An improved structure comprising two main sections: Design Diagrams and Design Deliverables. The first focuses on the nuts and bolts of design documentation and the second explains how to pull it all together.
- New deliverable: design briefs, as well as updated advice on wireframes, flow charts, and concept models.
- More illustrations, to help designers understand the subtle variations and approaches to creating design diagrams.
-Reader exercises, for those lonely nights when all you really want to do is practice creating wireframes, or for use in workshops and classes.
-Contributions from industry leaders: Tamara Adlin, Stephen Anderson, Dana Chisnell, Nathan Curtis, Chris Fahey, James Melzer, Steve Mulder, Donna Spencer, and Russ Unger.
This Web book shows you how to turn Web design concepts into successful sites. By focusing on documentation rather than process, this guide helps Web designers assess user needs through exploration of personas, usability tests and reports. Nearly 100 new pages.
Brings development strategies to life and presents best practices for site maps, flow charts, wireframes and screen designs. Most discussion about Web design seems to focus on the creative process; yet turning concept into reality requires a strong set of deliverables--the documentation (concept model, site maps, usability reports, and more) that serves as the primary communication tool between designers and customers. The only guide devoted to just that topic is now bigger and better.
Combining quick tips for improving deliverables with in-depth discussions of presentation and risk mitigation techniques, author Dan Brown shows you how to make the documentation you're required to provide into the most efficient communications tool possible.
From usability reports to project plans, content maps, flow charts, wireframes, site maps, and more, each chapter includes a contents checklist, presentation strategy, maintenance strategy, a description of the development process and the deliverable's impact on the project.
The second edition of this popular book is in a larger format and contains additional chapters with updated and more numerous illustrations. A completely new section teaches designers how to create deliverables in the context of telling a larger story.
Brown writes clearly and concisely, and he crafts his content with solid writing patterns that make the book easy to understand and easy to use. He's as thoughtful about the use of the book as he is about the use of his Web documentation. This isn't a book to tell you how to do your job, but it is a book to help you effectively communicate with a diverse group of stakeholders so that the resulting product fulfills its requirements and results in a high ROI.
"As an educator, I have looked to Communicating Design both as a formal textbook and an informal guide for its design systems that ultimately make our ideas possible and the complex clear."—Liz Danzico, from the Foreword