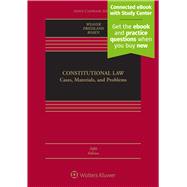 Note: Supplemental materials are not guaranteed with Rental or Used book purchases.
ISBN: 9781543830446 | 1543830447
Cover: Hardcover
Copyright: 2/15/2021
Buy a new version of this textbook and receive access to the Connected eBook with Study Center on CasebookConnect, including: lifetime access to the online ebook with highlight, annotation, and search capabilities; practice questions from your favorite study aids; an outline tool and other helpful resources. Connected eBooks provide what you need most to be successful in your law school classes. Learn more about Connected eBooks
Constitutional Law: Cases, Materials, and Problems, Fifth Edition by Russell L. Weaver, Steven Friedland, and Richard Rosen is designed as a teacher's book by stimulating thought, inviting discussion, and helping professors more effectively teach. Its thought-provoking problem approach encourages students to delve deeper into constitutional doctrine and gives them an accessible and interesting way to learn constitutional issues. Problems at the beginning of each chapter are referenced throughout the text for continuity. Principal constitutional law cases are edited as lightly as possible to allow the Supreme Court to speak for itself, with shorter notes that accompany the problems.
New to the Fifth Edition:
Text is completely up-to-date
Exploration of litigation related to the pandemic and the 2020 racial justice protests
A number of important recent U.S. Supreme Court decisions have been added, including the following:

Rucho v. Common Cause (partisan gerrymandering); Gill v. Whitford (partisan gerrymandering); Abbott v. Perez (racial gerrymandering); Cooper v. Harris (racial gerrymandering);
Gundy v. United States (Congressional power under the commerce clause); Dawson v. Steager (intergovernmental immunities); Gamble v. United States (the "dual sovereignty" principle); Murphy v. National Collegiate Athletic Association (the federal government's authority to commander state resources); Manhattan Community Access Corp. v. Halleck (state action); Department of Homeland Security v. Thuraissigiam (fast track deportations);
Ramos v. Louisiana (requirement of unanimous criminal jury verdicts);
Box v. Planned Parenthood of Indiana and Kentucky, Inc. (restrictions on abortion rights); June Medical Services L.L.C. v. Russo (restrictions on abortion rights);
Husted v. A. Philip Randolph Institute (voting rights);
Sessions v. Morales-Santana (gender-based classifications);
Barr v. American Association of Political Consultants, Inc. (robocalls as free speech); Agency for International Development v. Alliance for Open Society International, Inc. (governmental funding and compelled speech); Iancu v. Brunetti (viewpoint based restrictions on speech); Minnesota Voters Alliance v. Mansky (freedom of expression at polling places); National Institute of Family and Life Advocates v. Becerra (compelled speech); Janus v. American Federation of State, County, and Municipal Employees (compelled speech in union contexts); Matal v. Tam (viewpoint-based speech restrictions);
Packingham v. North Carolina (internet access);
Espinoza v. Montana Department of Revenue (Establishment and Free Exercise Clauses); Our Lady of Guadalupe School v. Morrisey-Berru (ministerial exception to the Free Exercise Clause); American Legion v. American Humanist Assocation (Establishment Clause); Masterpiece Cakeshop, Ltd. v. Colorado Civil Rights Commission (Establishment Clause); Trinity Lutheran Church of Columbia, Inc. v. Director (Establishment Clause and Free Exercise Clause);
Knick v. Township of Scott (takings clause); Murr v. Wisconsin (takings clause);
Department of Homeland Security v. Regents of California (executive power and DACA); Trump v. International Refugee Assistance Project (executive power and immigration restrictions); and Hawaii v. Trump (executive power and immigration restrictions)
Professors and students will benefit from:
Lightly edited cases allow students to see the fullest possible analysis of the law.
Diverse perspectives are presented on constitutional interpretation, federalism, and public policy.
An emphasis on federalism and other oft-marginalized topics– compared to other constitutional law casebooks, this text spends considerable time on federalism, balance of powers, and other topics that are sometimes only given passing reference.
A complete examination of Second Amendment rights and executive power.