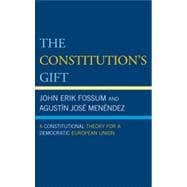 Note: Supplemental materials are not guaranteed with Rental or Used book purchases.
ISBN: 9780742553118 | 0742553116
Cover: Hardcover
Copyright: 1/16/2011
This authoritative study considers all aspects of the European Union's distinctive constitution since its inception. A unique political animal, the EU has given rise to important constitutional conundrums and paradoxes that John Erik Fossum and Agust'n JosZ MenZndez explore in detail. The authors consider the process of forging the EU's constitution and the set of fundamental norms that define the institutional structure, the decision-making procedures, and the foundations of the Union's democratic legitimacy. Their analysis illuminates the distinctive features of the EU's pluralist constitutional construct but also the interesting parallels to the Canadian constitutional experience and provides the tools to understand the Union's development, especially during the Laeken (2001D2005) and Lisbon (2007D2009) processes of constitutional reform. The authors' original theory of constitutional synthesis captures the distinctive traits of the European Union as a polity. It explains why and how the European Communities were established as the first constitutional union of constitutional states wherein integration would be steered by law, not power politics or imperialism. Similarly, it presents the European Union as one of the few examples of a polity that has transcended the paradigm of the nation-state (and perhaps even that of the state). Locating the substance and process of Lisbon in its proper constitutional context, Fossum and MenZndez explain why this should be seen as a new beginning of the Union's constitutional season, not its end. Offering the first history of European constitutional law that is both theoretically informed and normatively grounded, their book will be essential reading for all readers interested in the process and theory of European integration.