Daughters Healing from Family Mobbing Stories and Approaches to Recover from Shunning, Aggression, and Family Violence
, by
SELLERS, PHD, STEPHANIE A.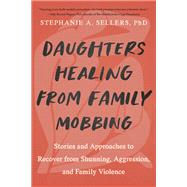 Note: Supplemental materials are not guaranteed with Rental or Used book purchases.
ISBN: 9781623178437 | 1623178436
Cover: Paperback
Copyright: 4/18/2023
A galvanizing call to end family-based anti-female violence, shaming, and shunning--stories and practices for healing from Family Mobbing.
"Family Mobbing" is a strategic process of power and control. When daughters are mobbed, they're not just shunned, attacked, or slandered: they're also subjugated by a system of family rules that reinforces patriarchal oppression. What makes mobbing so insidious--and so under-reported--is that here, family itself is the site of violence, trauma, and shame.
Family violence against girls and women is still legal--even in America, and even now. Across cultures, girls and women may be shunned or shamed, emotionally mistreated, or physically attacked by their families to maintain status, social conventions, and the family's own standing within their community. Family Mobbing tactics can include slander, gossip, rejection, beatings, anti-Queer violence, and even honor killings, child marriages, and forced abortion.
Author Stephanie Sellers--herself a survivor--explores the global phenomenon of Family Mobbing, revealing the secrets and patterns that play out behind closed doors and remain unseen, unacknowledged, and unaddressed. She discusses:
Why families and communities alienate members of their groups
Why women, girls, and LGBTQIA2S+ people are at higher risk of mobbing
The ramifications of raising daughters to be submissive
How (and why) mothers and grandmothers perpetuate cycles of Family Mobbing against their daughters
How to move on after being mobbed, shunned, or shamed
Firsthand accounts from people all over the world who were mobbed by their families
How different religious worldviews inform the practice and perpetuation of Family Mobbing
Sellers offers stories, definitions, and solutions to help women, girls, and people of all genders who have been mobbed by their families. She remembers and honors vast, ancient traditions that recognize female sanctity and personhood as paths forward to healing, with a focus on the practices and worldviews of Mother-first cultures that can illuminate the path toward honoring, valuing, and respecting daughters.