Deep Nature Play A Guide to Wholeness, Aliveness, Creativity, and Inspired Learning
, by
Cornell, Joseph Bharat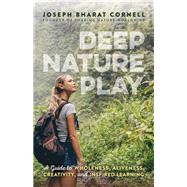 Note: Supplemental materials are not guaranteed with Rental or Used book purchases.
ISBN: 9781565893221 | 1565893220
Cover: Paperback
Copyright: 2/15/2018
When absorbed in deep play our sensory awareness is heightened, we become
immersed in the present moment and feel intensely alert and alive. Because play is
fun and rewarding, we operate at the peak of our mental and physical capacity.
Animals love to play. Crows will slide on their backs on a steep snowy slope, then fly
to the top to slide down again; bison will repeatedly sprint onto a frozen lake, then
bellow gleefully as they skid across the ice. Brown bear cubs who play the most,
Alaskan scientists have found, live the longest.
Why is play behavior so prevalent in the animal kingdom? Through play, animals
explore their world and discover all its possibilities. In higher animals, play
stimulates the brain, enhances cognitive function and adaptability, and strengthens
social bonds. Beyond these biological and social explanations, scientists are starting
to believe that play is a means by which animals can express their joy of life.
---
Play energizes and enlivens people's experience of nature. How does deep nature
play differ from regular play? Deep play incorporates greater absorption with the
object of play.
"Play," Albert Einstein said, "is the highest form of research." Through his "thought
experiments," Einstein could visualize a concept and see the unseen. In this way he
discovered the theory of relativity, which has been called the most influential theory
in the history of modern science. "Imagination," Einstein once said, "is more
important than knowledge," because knowledge tells us only what is known already
whereas imagination tells us what can be. Play is imaginative, and play's openness,
aliveness, and newness are essential to creativity.
This book is for those who have forgotten how to play, or who want to incorporate
more play into their lives and revive their innate curiosity and sense of wonder. Let
Joseph Cornell, Founder of Sharing Nature Worldwide and one of the world's most
popular nature educators, empower you with the tools to maximize play, and
transform it from mere entertainment into a doorway to enhanced living, creativity,
and concentration.