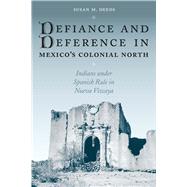 Note: Supplemental materials are not guaranteed with Rental or Used book purchases.
ISBN: 9780292705517 | 0292705514
Cover: Paperback
Copyright: 6/1/2003
"This is a major contribution to the theoretical literature on identity and to the history of northern Mexico and Latin America in general."--William L. Merrill, Curator of Anthropology, Smithsonian InstitutionIn their efforts to impose colonial rule on Nueva Vizcaya from the sixteenth century to the middle of the seventeenth, Spaniards established missions among the principal Indian groups of present-day eastern Sinaloa, northern Durango, and southern Chihuahua, Mexico--the Xiximes, Acaxees, Conchos, Tepehuanes, and Tarahumaras. Yet, when the colonial era ended two centuries later, only the Tepehuanes and Tarahumaras remained as distinct peoples, the other groups having disappeared or blended into the emerging mestizo culture of the northern frontier. Why were these two indigenous peoples able to maintain their group identity under conditions of conquest, while the others could not?In this book, Susan Deeds constructs authoritative ethnohistories of the Xiximes, Acaxees, Conchos, Tepehuanes, and Tarahumaras to explain why only two of the five groups successfully resisted Spanish conquest and colonization. Drawing on extensive research in colonial-era archives, Deeds provides a multifaceted analysis of each group' past from the time the Spaniards first attempted to settle them in missions up to the middle of the eighteenth century, when secular pressures had wrought momentous changes. Her masterful explanations of how ethnic identities, subsistence patterns, cultural beliefs, and gender relations were forged and changed over time on Mexico' northern frontier offer important new ways of understanding the struggle between resistance and adaptation in which Mexico' indigenous peoples are still engaged, five centuries after the "Spanish Conquest."