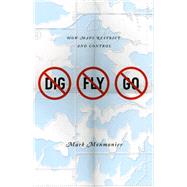 Note: Supplemental materials are not guaranteed with Rental or Used book purchases.
ISBN: 9780226534688 | 0226534685
Cover: Paperback
Copyright: 5/15/2010
Some maps help us find our way; others restrict where we go and what we do. These maps control behavior, regulating activities from flying to fishing, prohibiting students from one part of town from being schooled on the other, and banishing certain individuals and industries to the periphery. This restrictive cartography has boomed in recent decades as governments seek regulate activities as diverse as hiking, building a residence, opening a store, locating a chemical plant, or painting your house anything but regulation colors. It is this aspect of mappingits power to prohibitthat celebrated geographer Mark Monmonier tackles inNo Dig, No Fly, No Go. Rooted in ancient Egypt's need to reestablish property boundaries following the annual retreat of the Nile's floodwaters, restrictive mapping has been indispensable in settling the American West, claiming slices of Antarctica, protecting fragile ocean fisheries, and keeping sex offenders away from playgrounds. But it has also been used for opprobrium: during one of the darkest moments in American history, cartographic exclusion orders helped send thousands of Japanese Americans to remote detention camps. Tracing the power of prohibitive mapping at multiple levelsfrom regional to internationaland multiple dimensionsfrom property to cyberspaceMonmonier demonstrates how much boundaries influence our experiencefrom homeownership and voting to taxation and airline travel. A worthy successor to his critically acclaimedHow to Lie with Maps,the book is replete with all of the hallmarks of a Monmonier classic, including the wry observations and witty humor. In the end, Monmonier looks far beyond the lines on the page to observe that mapped boundaries, however persuasive their appearance, are not always as permanent and impermeable as their cartographic lines might suggest. Written for anyone who votes, owns a home, or aspires to be an informed citizen,No Dig, No Fly. No Gowill change the way we look at maps forever.