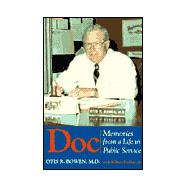 Note: Supplemental materials are not guaranteed with Rental or Used book purchases.
ISBN: 9780253337672 | 0253337674
Cover: Hardcover
Copyright: 9/1/2000
DocMemories from a Life in Public ServiceOtis R. Bowen, with William Du Bois, Jr.The autobiography of Otis R. Bowen, Indiana's most popular and best-known governor."Being governor is like no other job although it has similarities to being a country doctor. Like a physician, a governor is on call 24 hours a day, seven days a week, asleep, awake, eating, in the shower, traveling in a car, or at a meeting. There are emergencies, so he lives with unpredictability. As earlier noted, many state government activities involve health and medical questions, areas in which I have expertise. There, the similarities end. There is nothing like being governor, not even being a member of a president's Cabinet." -- from DocNo Indiana governor in the 20th century has been more popular or successful than Otis R. Bowen. In his long-awaited autobiography, "Doc" writes in rich detail about the hard work and persistence that got him into and through medical school. His commitment to serving people made him a beloved family physician in Bremen, a respected state legislator and legislative leader, and one of the most esteemed governors in Indiana history.Otis Bowen grew up poor in Fulton County, but was rich in the things that matter. With the support of his parents, siblings, teachers and friends, he pursued a dream of becoming a family physician, making many sacrifices to finance his way through medical schoolAs a newly minted doctor, Bowen first practiced medicine in the Army. He describes his experience on the field of combat in the Pacific during the last major battle of World War II, and tells of his life after coming home from the war to serve the medical needs of a small northern Indiana community. We learn, too, of his personal life, about his own family and his first two wives, Beth Bowen and Rose Bowen, the loneliness and emptiness he endured after they died painfully of cancer, and how his third wife, Carol, has filled that void.An almost accidental entry into politics and public life led Bowen to the capitals of Indiana and the nation. Drafted as a candidate for Marshall County coroner in 1952, Bowen moved up from that office to become a member of the Indiana House of Representatives, to House leadership as Minority Leader and Speaker, to the governor's office in 1973, and to President Ronald Reagan's cabinet in 1985. The first person to serve eight consecutive years as Indiana's Governor, Bowen candidly explores the challenges, crises and triumphs of that period. In an equally candid way, he recounts his efforts and frustrations as Secretary of the U.S. Department of Health and Human Services.As warm, down-to-earth, and genuine as its subject, Doc will be welcomed by all Hoosiers, no matter their political stripe.William Du Bois, Jr., Hoosier by birth, spent 20 years as a journalist, half of that period as editor of Portland and Muncie newspapers. He later served on the executive staffs of governors Otis R. Bowen and Robert D. Orr. Before retiring in 1998, Du Bois also spent a decade in higher education as president of the Independent Colleges and Universities of Indiana (an association of Indiana's private colleges and universities) and as the system marketing and public relations director for Ivy Tech State College.