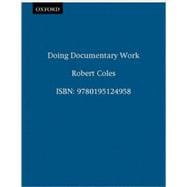 Note: Supplemental materials are not guaranteed with Rental or Used book purchases.
ISBN: 9780195124958 | 0195124952
Cover: Paperback
Copyright: 11/19/1998
Sitting in his study, William Carlos Williams once revealed to Robert Coles what he considered to be his greatest problem in writing a documentary about his patients in New Jersey. "When I'm there, sitting with those folks, listening and talking," he said to Coles, "I'm part of that life, andI'm near it in my head, too.... Back here, sitting near this typewriter--its different. I'm a writer. I'm a doctor living in Rutherford who is describing 'a world elsewhere.'" Williams captured the great difficulty in documentary writing--the gulf that separates the reality of the subject from thepoint of view of the observer . Now, in this thought-provoking volume, the renowned child psychiatrist Robert Coles, author of the Pulitzer Prize-winning Children in Crisis series, offers a penetrating look into the nature of documentary work. Utilizing the documentaries of writers, photographers, and others, Coles shows howtheir prose and pictures are influenced by the observer's frame of reference: their social and educational background, personal morals, and political beliefs. He discusses literary documentaries: James Agee's searching portrait of Depression-era tenant farmers, Let Us Now Praise Famous Men, andGeorge Orwell's passionate description of England's coal-miners, The Road to Wigan Pier. Like many documentarians, Coles argues, Agee and Orwell did not try to be objective, but instead showered unadulterated praise on the "noble" poor and vituperative contempt on the more privileged classes(including themselves) for "exploiting" these workers. Documentary photographs could be equally revealing about the observer. Coles analyzes how famous photographers such as Walker Evans and Dorthea Lange edited and cropped their pictures to produce a desired effect. Even the shield of the cameracould not hide the presence of the photographer. Coles also illuminates his points through his personal portraits of William Carlos Williams; Robert Moses, one of the leaders of the Student Non-Violent Coordinating Committee during the 1960s; Erik H. Erikson, biographer of Mahatma Gandhi and MartinLuther; and others. Documentary work, Coles concludes, is more a narrative constructed by the observer than a true slice of reality. With the growth in popularity of films such as Ken Burns's The Civil War and the controversial basketball documentary Hoop Dreams, the question of what is "real" in documentary work is more pressing than ever. Through revealing discussions with documentarians and insightful analysis of theirwork, complemented by dramatic black-and-white photographs from Lange and Evans, Doing Documentary Work will provoke the reader into reconsidering how fine the line is between truth and fiction. It is an invaluable resource for students of the documentary and anyone interested in this importantgenre.