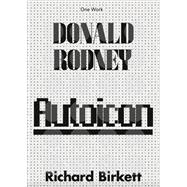 Note: Supplemental materials are not guaranteed with Rental or Used book purchases.
ISBN: 9781846382574 | 1846382572
Cover: Paperback
Copyright: 6/6/2023
An illustrated examination of Donald Rodney's seminal digital media work Autoicon (1997–2000).

Donald Rodney's Autoicon, a work originally produced as both a website and CD-ROM, was conceived by the artist in the mid-1990s but not completed until two years after his death in 1998. Referencing Jeremy Bentham's infamous nineteenth-century "Auto-Icon," the work proposes an extension of the personhood and presence of Rodney, while critically challenging dominant conceptions of the self, the body, and historicity. Grounded in a partial collection of medical documents that constitute biomedicine's attempts to comprehensively "know" and maintain Rodney's body during his lifelong experience of sickle-cell aneamia, Autoicon pursues the artist's address, from the mid-1980s onward, of the British social and institutional body's cellular composition through racialized, biopolitical power.

Autoicon consists of a Java-based AI and neural network that engages the user in text-based "chat," and provides responses by drawing from a dense body of "data points" related to Rodney and his work, including documentation of artworks, medical records, interviews, images, notes, and video. Pulling both from this internal archive and the external archive of the Internet, a "montage machine" composes constantly mutating images according to a rule-based system established around Rodney's working process.

In this One Work edition, curator Richard Birkett traces the distinct contemporary presence of Autoicon, and the ideas and relations that emerged around its conception before and after Rodney's death, particularly linking the work to the artist's seminal 1997 exhibition 9 Night in Eldorado. Birkett addresses Autoicon as both an index of entangled social and material relations around Rodney—a form of dispersed memory—and a vector of critical creative production that continues to resonate with contemporary artistic practices and radical thought. While attuned to late twentieth century discourse around the body's dissolution into the "virtual" and the technological potential for extending consciousness, in its content and structure Autoicon locates these discourses of the human and posthuman in relation to the durable productive forces of post-Enlightenment racialization and ableism. The workings of the mind that Autoicon presents are intrinsically tied to Rodney's wider use in his work of bodily matter, and genealogically bound to a Black history of displacement, dispossession, and resistance experienced physiologically, socially, and familially by the artist. Autoicon offers up a counter-manifestation of the subject as formed and multiplied through temporal disjuncture, affectability and acts of preservation, care, and collectivity.