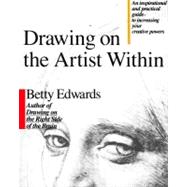 Note: Supplemental materials are not guaranteed with Rental or Used book purchases.
ISBN: 9781439132661 | 1439132666
Cover:
Copyright: 10/9/2008
AH-HA! I SEE IT NOW!Everyone has experienced that joyful moment when the light flashes on -- the Ah-Ha! of creativity.Creativity. It is the force that drives problem-solving, informs effective decision-making and opens new frontiers for ambition and intelligence. Those who succeed have learned to harness their creative power by keeping that light bulb turned on.Now, Betty Edwards, author ofDrawing on the Right Side of the Brain,the million-copy best-seller that proved all people can draw well just as theycan read well,has decoded the secrets of the creative process to help you tap your full creative potential and apply that power to everyday problems. How does Betty Edwards do this? Through the power of drawing -- power you can harness tosee problems in new ways.Through simple step-by-step exercises that require no special artistic abilities, Betty Edwards will teach you how to take a new point of view, how to look at things from a different perspective, how to see the forestandthe trees, in short, how to bring yourvisual, perceptual brainpowerto bear on creative problem-solving.You will learn how the creative process progresses from stage to stage and how to move your own problem-solving through these key steps:* First insight* Saturation* Incubation* Illumination (the Ah-Ha!)* VerificationWhether you are a business manager, teacher, writer, technician, or student, you'll findDrawing on the Artist Withinthe most effective program ever created for tapping your creative powers. Profusely illustrated with hundreds of instructional drawings and the work of master artists, this book is written for people with no previous experience in art.