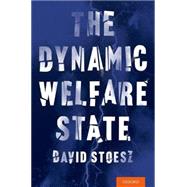 Note: Supplemental materials are not guaranteed with Rental or Used book purchases.
ISBN: 9780190251123 | 0190251123
Cover: Hardcover
Copyright: 3/21/2016
The Dynamic Welfare State makes a case for a radical shift in how we view the roles of both public and private institutions in the United States. It documents the emergence of a third stage in the American welfare state, evident in corporations exploiting markets in healthcare, education, and financial services. Architects of the welfare state envisaged government as the provider of essential services to citizens; however, as the Medicare Modernization Act of 2003 and the Affordable Care Act of 2010 show, corporations and the wealthy have become adept at using trade associations, hiring lobbyists, influencing elections, and contributing to think tanks in order to craft public policy that is congruent with industry preferences. Moreover, the influence of "dark money" through political action committees classified by the IRS as "social welfare organizations" in order to obscure the identity of donors is pernicious to democracy. In addition to accounting for the marketization of public policy, The Dynamic Welfare State describes the failure of health and human services professionals to advance the welfare of the public, graphically illustrated by the poverty trap, the deinstitutionalization of the mentally ill, and the "school-to-prison pipeline." The status quo is unsustainable, and a reconfigured welfare state is essential if government social programs are to honor their public commitments for the 21st century. In this bold and timely text, David Stoesz illustrates how and why empowerment, mobility, and innovation are themes for a dynamic welfare state that is congruent with the modern day.