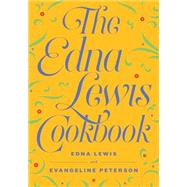 Note: Supplemental materials are not guaranteed with Rental or Used book purchases.
ISBN: 9781604191066 | 1604191066
Cover: Paperback
Copyright: 10/1/2016
EdnaLewis was recently honored with the issuance of a postal stamp by the US PostOffice. She is renowned as one of the greatest American chefs and as an African-Americanwoman who almost single handedly revived a forgotten world of refined Southerncooking.
Anothercelebrated American chef, James Beard, remarked: "Edna Lewis makes me want togo right into the kitchen and start cooking." Lewis won many industry awardsand was often referred to as "the GrandeDame of Southern Cooking" and the "South's answer to Julia Child."
Lewis(1916-2006) also had a remarkable life story. She was born and grew up in ruralVirginia in an area called Freetown. She learned to cook from an extendedfamily that included grandparents who had been enslaved.
The Edna Lewis Cookbook
, Lewis's first book, published in 1972, contains o

ver 100 recipes, arranged in menu form andorganized according to the season of the year: Spring, Summer, Autumn, andChristmas. With its focus mostly although not exclusively on Southern food, itbegan the revival of true Southern cooking.
Lewis went on to publish three more books: The Taste of Country Cooking (1976), In Pursuit of Flavor (1988), and The Gift of Southern Cooking,co-authored with Scott Peacock (2003).
Her menus and recipes were featured in a variety ofpublications, including the New YorkTimes, the New York Times Magazine,the Washington Post, Gourmet, Food & Wine, Cook's, House & Garden, and Redbook, among others.
This edition of
The Edna Lewis Cookbook
marks the 100th Anniversary of MissLewis's birth.
Evangeline Petersonstudied with Edna Lewis and assisted her in compiling The Edna LewisCookbook.
Normal 0 false false false EN-US JA X-NONE