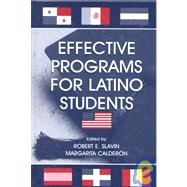 Note: Supplemental materials are not guaranteed with Rental or Used book purchases.
ISBN: 9780805834123 | 0805834125
Cover: Hardcover
Copyright: 9/1/2000
Latino (or Hispanic) children are one of the fastest-growing groups in U.S. schools today. On average, these students perform worse than Anglo students on measures of academic achievement and other measures of academic success, and their drop-out rate is high. There are schools of excellence among those serving Latino children, but the majority of these children are placed "at risk" by schools and community institutions unable to build on the cultural, personal, and linguistic strengths these children are likely to bring with them to school. Schools serving Latino students need programs based on high-quality research, capable of being replicated and adapted to local circumstances and needs. The purpose of this book is to present the current state of the art with respect to research on effective instructional programs for Latino students in elementary and secondary grades. Surprisingly, this has not been done before; there are many books on the situation of Latino students in U.S. schools, but none so far have reviewed research on the outcomes of programs designed to enhance the academic achievement of these students. The chapters represent a broad range of methodologies, from experimental to correlational to descriptive, and the solutions they propose are extremely diverse. Each examines, in its own way, programs and practices that are showing success. Together, they present a rich array of research-based effective programs that are practical, widely available, and likely to make a profound difference. What binds the chapters together is a shared belief that Latino students can succeed at the highest levels if they receive the quality of instruction they deserve, and a shared belief that reform of schools serving many Latino students is both possible and essential. This is a book filled with statistics, description, and reviews of research--but even more, it is filled with optimism about what schools for Latino students can be, and what these students will achieve. It is a highly relevant and useful resource for educators, policymakers, and researchers who want to use research to inform the decisions they make about how to help Latino students succeed in elementary and secondary schools, and beyond.