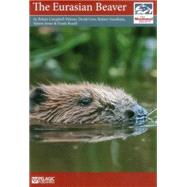 Note: Supplemental materials are not guaranteed with Rental or Used book purchases.
ISBN: 9781784270346 | 1784270342
Cover: Paperback
Copyright: 3/19/2015
The Eurasian beaver was near extinction at the start of the twentieth century, hunted across Europe for its fur, meat and castoreum. But now the beaver is on the brink of a comeback, with wild beaver populations, licensed and unlicensed, emerging all over Britain.
As a keystone species, the beaver plays a vital role in the creation of sustainable wetland habitats through its damming activities, providing living opportunities for a broad spectrum of wildlife. Yet as proposals for reintroducing beavers are underway, re-establishing the beaver in Britain is still a controversial issue.
This book presents a case for our future coexistence with beavers by providing factual information on this species that has now passed from national memory, covering the biology, behaviour and ecology of the Eurasian beaver in a British context, from their early history in archaeology and folklore to their contemporary field signs in the wild. This book familiarises readers once again, after almost 400 years of its absence, with the Eurasian beaver, providing essential information on its requirements in our human dominated landscape.
This book is for those with a specific interest in beavers and their reintroduction, and for anyone with a general curiosity in natural history, ecology or animal behaviour. It can be used as a field guide to identify beaver field signs and observe beavers in the wild by wildlife surveyors or general land users, or as an introductory guide for anyone with an interest in beavers and how to recognise them.
The authors have been actively involved in the study of beaver ecology, behaviour and reintroduction for many years. They have a first-hand knowledge of beavers in captivity and in the wild in both Britain and a range of other European countries.