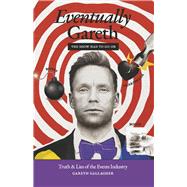 Note: Supplemental materials are not guaranteed with Rental or Used book purchases.
ISBN: 9798218956349 | 8218956344
Cover: Paperback
Copyright: 9/13/2023
The legendary events provocateur, Gareth Gallagher takes readers behind the scenes of this bewitching-yet-brutal industry.— bombs, blackmail, and mind-blowing experiences. The show had to go on.

Across his multi-decade, multiply decorated career, acts of terrorism, acts of sabotage and acts of God would become par-for-the-course obstacles for global top-tier events executive Gareth. Yet as this high-adrenaline, high-octane lifestyle took its toll on him, as well as those closest to him, the unforgiving industry always made one thing perfectly clear: the show had to go on.

This is the story of Gareth Gallagher's journey to the ends of the earth and the ends of himself. It's a story of love and loss and extravagance. It's a story that pushes readers just to the edge of belief, then asks them to take one step further as the show, somehow, carries on far beyond what we expect it to.
Gareth has survived bombs, blackmail, a cyclone, and an earthquake. He has worked in forty-two countries and lived in seven. He has worked with Presidents, celebrities, and Fortune 500 execs— all with their private jets and security and insatiable need to be treated like VIPs. He has overcome addiction, eating disorders, and the loss of the greatest love of his life. For two and a half decades, he pressed forward in the career that gave him his most epic adventures and his most devastating pain, not realising at the time he was chasing his own insatiable need to be loved.

For two and a half decades, Gareth cultivated his reputation as an events provocateur into legendary status, and spared no personal expense doing so. Presidents, celebrities, and Fortune 500 execs relied on his expertise to keep their insatiable VIP needs met no matter what— bombs, natural disasters, and the Russian mafia included. No other career path except the rock stardom he'd dreamt of as a child could have given Gareth this kind of lifestyle: causing a security scare in Heathrow airport as the Concorde made its final flight, getting lost in the streets of New Orleans while looking for a missing event speaker, and taking private helicopters right into the heart of Manhattan's extravagance, all while managing a high functioning level of addiction. When disaster struck an event— and it always managed to, from bombs exploding nearby to an earthquake and a cyclone rocking venue buildings to attendees were drugged— it's Gareth you wanted on your team.

His larger than life personality and genuine will to deliver made him a star, but one that nearly imploded. The cocaine that fueled an unforgettable first night with the love of his life fed the overdose that ultimately took him— and his Australian accent, boyish smile, and constant support— before their life together could begin. The caffeine, alcohol, and an eating disorder that seemed to power endless hours on the job also led to an ultimatum from his doctor a year after Matthew's death.

Gareth's story may stand apart in excess, but is not an entirely singular experience. Each moment showcased in this snapshot of an unbelievable career uncovers the depths event planners will reach in order to serve their clients. The biggest expense at the biggest events is an invisible cost paid by the background team running on adrenaline, excess, and no small amount of self-deprecation. Case in point: after a few moments of collapse when Gareth received the news of the overdose, he dried his eyes and carried on with the scheduled series of meetings for the day. The show had to go on— until it absolutely couldn't anymore.
In a deck of Tarot cards, the archetype of the Fool is not one who is deceived or simple, but who is standing at the edge of a cliff, perpetually poised to leap into the unknown and begin his world anew. The fast-paced, entertaining, heart-wrenching narrative of Eventually Gareth is about the monumental amount of Strength, Judgement, and Surrender required to take that leap.