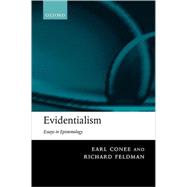 Note: Supplemental materials are not guaranteed with Rental or Used book purchases.
ISBN: 9780199253739 | 0199253730
Cover: Paperback
Copyright: 6/10/2004
Evidentialism is a view about the conditions under which a person is epistemically justified in having a particular doxastic attitude toward a proposition. Evidentialism holds that the justified attitudes are determined entirely by the person's evidence. This is the traditional view ofjustification. It is now widely opposed. The essays included in this volume develop and defend the tradition.Evidentialism has many assets. In addition to providing an intuitively plausible account of epistemic justification, it helps to resolve the problem of the criterion, helps to disentangle epistemic and ethical evaluations, and illuminates the relationship between epistemic evaluations of beliefs andthe evaluation of the methods used to form beliefs. These issues are all addressed in the essays presented here. External world skepticism poses the classic problem for an epistemological theory. The final essay in this volume argues that evidentialism is uniquely well qualified to make sense ofskepticism and to respond to its challenge.Evidentialism is a version of epistemic internalism. Recent epistemology has included many attacks on internalism and has seen the development of numerous externalist theories. The essays included here respond to those attacks and raise objections to externalist theories, especially the principalrival, reliabilism. Internalism generally has been criticized for having unacceptable deontological implications, for failing to connect epistemic justification to truth, and for failing to provide an adequate account of what makes basic beliefs justified. Each of these charges is answered in theseessays. The collection includes two previously unpublished essays and new afterwords to five of the reprinted essays; it will be the definitive resource on evidentialism for all epistemologists.