Family, Self, and Human Development Across Cultures: Theory and Applications, Second Edition
, by
Kagitçibasi
;
Çigdem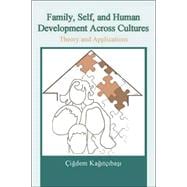 Note: Supplemental materials are not guaranteed with Rental or Used book purchases.
ISBN: 9780805857757 | 0805857753
Cover: Hardcover
Copyright: 3/9/2007
Reflecting author Cigdem KagitCibasi's influential work over the last two decades, this new edition examines human development, the self, and the family in a cultural context. It challenges the existing assumptions in mainstream western psychology about the nature of individuals. The author proposes a new modelthe "Autonomous-Related Self"which expands on existing theory by demonstrating how culture influences self development. The development of competence is examined from a contextual perspective, with a view towards global urbanization which is creating increasingly similar lifestyles around the world. The implications of this perspective are discussed extensively, particularly early intervention policy implications related to promoting human competence in immigration and acculturation. Rich in both theory and application, each topic is introduced with a historical antecedent and earlier research before current work is discussed. This new edition also features: *a new theoretical perspective that integrates cultural variation with universal human development trajectories in the context of social change, globalization, and immigration; *two new chapters on "Parenting and the Development of the Autonomous Related Self" and "Immigration and Acculturation"; *a more student-friendly approach with boxed stories, summary and main point reviews, discussion questions, and an extensive bibliography in each chapter; and *a comprehensive glossary of all the book's key terms for a quick reference. Intended as a graduate or advanced undergraduate level text for courses addressing cross-cultural psychology taught in a variety of departments including developmental, community, family, and educational psychology, this comprehensive volume will also appeal to researchers interested in issues of human development in a socio-cultural context.