A Fierce Discontent The Rise and Fall of the Progressive Movement in America, 1870-1920
, by
McGerr, Michael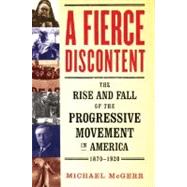 Note: Supplemental materials are not guaranteed with Rental or Used book purchases.
ISBN: 9780195183658 | 0195183657
Cover: Paperback
Copyright: 7/7/2005
With America's current and ever-widening gap between the rich and the poor and the constant threat of the disappearance of the middle class, the Progressive Era stands out as a time when the middle class had enough influence on the country to start its own revolution. Before the Progressive Era most Americans lived on farms, working from before sunrise to after sundown every day except Sunday with tools that had changed very little for centuries. Just three decades later, America was utterly transformed into a diverse, urban, affluent, leisure-obsessed, teeming multitude. This explosive change was accompanied by extraordinary public-spiritedness as reformers--frightened by class conflict and the breakdown of gender relations--abandoned their traditional faith in individualism and embarked on a crusade to remake other Americans in their own image. The progressives redefined the role of women, rewrote the rules of politics, banned the sale of alcohol, revolutionized marriage, and eventually whipped the nation into a frenzy for joining World War I. These colorful, ambitious battles changed the face of American culture and politics and established the modern liberal pledge to use government power in the name of broad social good. But the progressives, unable to deliver on all of their promises, soon discovered that Americans retained a powerful commitment to individual freedom. Ironically, the progressive movement helped reestablish the power of conservatism and ensured that America would never be wholly liberal or conservative for generations to come. Michael McGerr's A Fierce Discontent recreates a time of unprecedented turbulence and unending fascination, showing the first American middle-class revolution. Far bolder than the New Deal of FDR or the New Frontier of JFK, the Progressive Era was a time when everything was up for grabs and perfection beckoned.