The Fifth Corner of Four An Essay on Buddhist Metaphysics and the CatuG;kotO;
, by
Priest, Graham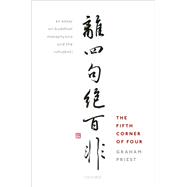 Note: Supplemental materials are not guaranteed with Rental or Used book purchases.
ISBN: 9780192894670 | 0192894676
Cover: Paperback
Copyright: 1/19/2021
Graham Priest presents an exploration of Buddhist metaphysics, drawing on texts which include those of Năgărjuna and Dőgen. The development of Buddhist metaphysics is viewed through the lens of the catuṣkotị. At its simplest, and as it appears in the earliest texts, this is a logical/ metaphysical principle which says that every claim is true, false, both, or neither; but the principle itself evolves, assuming new forms, as the metaphysics develops. An important step in the evolution incorporates ineffability. Such things make no sense from the perspective of a logic which endorses the principles of excluded middle and non-contradiction, which are standard fare in Western logic. However, the book shows how one can make sense of them by applying the techniques of contemporary non-classical logic, such as those of First Degree Entailment, and Plurivalent Logic. An important issue that emerges as the book develops is the notion of non-duality and its transcendence. This allows many of the threads of the book to be drawn together at its end. All matters are explained, in as far as possible, in a way that is accessible to those with no knowledge of Buddhist philosophy or contemporary non-classical logic.