In the Footsteps of Alexander: The King Who Conquered the Ancient World
, by
Doleac, Miles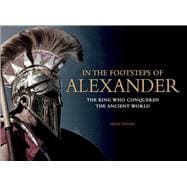 Note: Supplemental materials are not guaranteed with Rental or Used book purchases.
ISBN: 9781782741657 | 1782741658
Cover: Hardcover
Copyright: 8/19/2014
In just 11 years, Alexander the Great's armies marched 22,000 miles, subjugated Asia Minor, the Levant, and Egypt, conquered the mighty Persian Empire, and invaded India. By the age of thirty, he had created one of the largest empires of the ancient world. And even after he died in 323 BCE, aged 32 and undefeated in battle, his legacy remained in the form of a Hellenized Asia and the Seleucid Empire. Divided into eight chapters, In the Footsteps of Alexander traces the physical and historical journey of the man who conquered Asia and was declared a god-king. Chapter one examines the Macedonian background and Alexander's rise to power; chapters two and three explore the invasion of Asia Minor and his first encounters with Persian armies at the battles of Granicus (334) and Issus (333); chapter four looks at the siege of Tyre (332) and the great victory over Persian king Darius at Gaugamela (331); chapters five and six follow Alexander's conquest of the outer reaches of the Persian Empire, from the battle of the Persian Gates (330) to the invasion of India and the battle of Hydaspes (326); while chapter seven examines the new cities he founded across Asia, including Alexandria, Antioch, and Kandahar; finally, chapter eight considers his death and legacy. Including more than 200 photographs, illustrations, paintings, and maps, In the Footsteps of Alexander is a colorful, accessible examination of one of history's greatest military leaders.