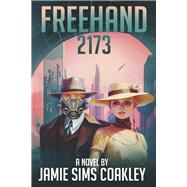 Note: Supplemental materials are not guaranteed with Rental or Used book purchases.
ISBN: 9798350907490 | 8350907495
Cover: Paperback
Copyright: 10/3/2023
In "Freehand 2173," reporter Dorothy Holiday is on assignment in a cold, rainy, dystopian Los Angeles with only a few weeks of breathable air left on Earth. The climate crisis of the 21st century has spiraled out of control, millions have died, millions more have been displaced, and everything is falling apart, including Dorothy. She drinks too much and not enough, and every day she wakes up grasping for just one reason to keep going. The end is near, and everything is bleak… until she discovers a mysterious notebook at the Freehand Hotel.
That same night, astrophysicist Thomas O'Connell opens a wormhole and travels through time. Now, he must figure out how to use time travel to save what's left of humanity. Dorothy can barely speak when she first meets Dr. O'Connell. He's intelligent, tall, dark-haired, Irish, and has the kindest blue eyes she's ever seen. When an accident pulls them together, their ensuing connection becomes undeniable. Dr. O'Connell soon discovers the mysterious notebook in Dorothy's hotel room, and the equations inside give them a real chance at a future.
After catching a hyper-jet to Geneva, Dorothy and Thomas team up with Thomas' longtime friend and mentor, Dr. Grace Turner, to get Thomas back in time. It's a long shot, but if they can intercept Einstein on his visit to CalTech in 1931, perhaps they can enlist his help to decipher the equations and save the future. After a miraculous trip through the time-space wormhole, Thomas finds himself not only in 1931, but in the basement under the 60-inch telescope at Mt. Wilson Observatory with Albert Einstein, George Hale, Robert Van De Graaf, and Niels Bohr. The scientists are secretly testing Van De Graaf's first particle collider in the hopes of opening a wormhole, and their attempts brought Thomas directly to their point in time.
A power failure at CERN collapses the wormhole, leaving Thomas stuck in the past. Dorothy has no choice but to go after him and see pre-climate change Los Angeles for herself. Collaborating with the greatest scientific minds of the twentieth century can't last forever, and Thomas and Dorothy must head back to 2173. As terrible as the future may be, Dorothy must face her worst fears and try to save what's left of humanity. If they fail, it means the end of humanity forever, and no one's really sure what it will mean if they succeed.