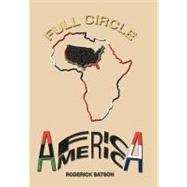 Note: Supplemental materials are not guaranteed with Rental or Used book purchases.
ISBN: 9781452019925 | 1452019924
Cover: Hardcover
Copyright: 8/6/2010
In 2004, the author of this book participated in a bonding trip with his life time friend Michael, and their two fathers. The four traveled to Africa and Europe and the experience inspired Roderick to write this book. Roderick accurately takes the reader "Full Circle" through a journey of Africa's history from the time she was the envy of the world, through her dark era of slavery and colonialism, to her return as the most important continent in the world during the 21st century. He makes a compelling case how every industrialized nation will become dependent on the natural resources of the continent to sustain their economies in the 22nd century. Full Circle is a powerful and controversial book that takes on a range of social, political, racial, and religious issues. Roderick not only highlights the concerns he has with today's educational systems, politics, and religions; he gives the reader his opinion and solutions for these perils. Throughout "Full circle" Roderick confronts the American media for the negative image it has portrayed of Africa for centuries. He goes on to identify the effects on the psyche of African Americans being indoctrinated with negativity about the continent of their origin and the false sense of inferiority by Europeans derived from the same propaganda.Roderick addresses three practices he identifies as the three B's of colonialism, the Bible, the Bullet, and the Ballot. He begins by unfolding the creation of the Jewish Torah, the Christian Bible, and the Muslim's Quran, chronologically. He uses actual events in history to expose the violence in America and abroad, and emphasizes the importance of participating in politics. Roderick makes his best effort to encourage African Americans to embrace their African heritage in preparation for the reawakening of the continent. He provides an undeniable case for Africa becoming the world's next "Super Power" in the 22nd century, with out firing a shot.