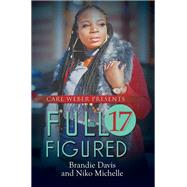 Note: Supplemental materials are not guaranteed with Rental or Used book purchases.
ISBN: 9781645563938 | 1645563936
Cover: Paperback
Copyright: 9/27/2022
Big girls deserve love too, and Brandie Davis and Niko Michelle introduce readers to two women who are determined to get it.

Cam Girl by Brandie Davis: Lots of women weighing 300 pounds would have a problem with their size and wish for a smaller frame, but not Draya Phillips. She's content with her weight and has no issues with her outside appearance. It's the inside she's at war with. Her mind is her biggest enemy and emotions her personal bully. Draya's only place of refuge, where her depression is silenced, lies in the world of camming, where virtual viewers cheer on and instruct her sexual activities.

This is her life: artist by day and cam girl by night, until her heart betrays her and seeks interest in a man it won't let go of. Draya's inner self is finally evolving and learning life is not all black shadows. Now that she's learned this lesson, can her new lover accept everything she comes with, camming and all?

Red Flags by Niko Michelle: We all have a little love-induced crazy in us. So, it's no surprise Redarra Michaels' crazy is exposed when she catches the love of her life, popular college football standout Taylor Lawrence, in a prone position off the field. Redarra was warned—fluffy girls like her could never get and keep a guy like Taylor. All the flags were there, but big girls deserve love too, so she thought those flags couldn't have been waving at her. Well, they were, which causes Redarra to lose touch with reality temporarily. Now free, Redarra has dropped a few pounds and a few letters in her name. Red is curvy, dangerous, and on a mission for revenge. It's not her fault everyone overlooked her red flags.