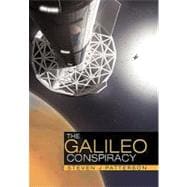 Note: Supplemental materials are not guaranteed with Rental or Used book purchases.
ISBN: 9781452002972 | 1452002975
Cover: Hardcover
Copyright: 12/10/2010
It is the twenty-second century. The Earth is an ecological mess where the UN has become the dominant political influence. to reduce the exploitation of resources and pollution on earth, mining colonies have been established on the Moon and Mars. The jewel in the UN space development program was 'Project JUPITER', centred on the UNSV GALILEO, a deep space, survey and mining vessel built to exploit the vast mineral resources of Jupiter and the asteroid belt.Jan Maldrick of the Central Intelligence and Security Service had been given a simple close protection assignment. However, he found himself being dragged into the centre of conflicting conspiracies to save the human race and obtain global dictatorial power, with the GALILEO as the target for both. With no way out, he becomes embroiled in a complex plot involving espionage, sabotage, assassination and corruption.The GALILEO was the key. The vessel needed to be protected and fate had selected him to achieve this. Only the GALILEO and her crew could guarantee the future of mankind.Confined to the Earth, humanity remains vulnerable. Extreme climate change, volcanic activity, asteroid impact or global nuclear war; any one of these could threaten us with extinction. We have the technological capability; isn't it about time we expanded beyond our planet to ensure survival of the species?The story of the GALILEO Conspiracy seeks to create a fictional future situation that might lead to a small band of humanity taking that leap and leaving them in a state of affairs that sets the scene and raises questions for future stories. What might happen if a small band of talented and dedicated people made their home in space? How would they survive? What kind of society might they build? What would their challenges be? Are we alone?