Not a Game The Incredible Rise and Unthinkable Fall of Allen Iverson
, by
Babb, Kent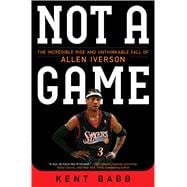 Note: Supplemental materials are not guaranteed with Rental or Used book purchases.
ISBN: 9781476778976 | 1476778973
Cover: Paperback
Copyright: 6/21/2016
Shortlisted for the PEN/ESPN Award for Literary Sports Writing

"A tour de force like AI himself." —Dan Wetzel, national columnist for Yahoo Sports, and New York Times bestselling author

"Pricks the skin and provokes a response." —The Washington Post

"A searingly honest and intimate portrait of a captivating icon." —Baxter Holmes, ESPN NBA reporter

Former NBA superstar Allen Iverson was once one of America's most famous athletes: a trendsetter who transcended race, celebrity, and pop culture, and emerged from a troubled past to become one of the most successful and highly compensated athletes in the world. Now, his life and career come vividly to light in this "searingly honest and intimate portrait of a captivating icon" (Baxter Holmes, ESPN NBA reporter).

Through extensive research and interviews with those closest to Iverson, acclaimed Washington Post sportswriter Kent Babb gets behind the familiar, sanitized, and heroic version of Iverson—the hard-changing, hard-partying athlete who played every game as if it were his last. Babb brings to life a private, loyal, and often generous Allen Iverson who rarely made the headlines, revealing the back story behind some of Iverson's most memorable moments, such as his infamous "Practice" rant, delving even deeper to discover where Iverson's demons lurked. He drank too much, stayed out too late, spent more money than most people could spend in a dozen lifetimes—blowing more than $150 million of his NBA earnings alone. His then wife Tawanna, seen often as the mild-mannered woman who tamed the bad boy, tried to keep her husband and family on the rails. But, as so many others learned on basketball courts, she was no match for the force of nature that was Iverson. Jealousy, meanness, and relentless eventually wore down even his biggest fans, teammates, and, eventually, even his most formidable opponent.

Not a Game is an impeccably researched, honest look at the factors that led to the rise and fall of a basketball superstar. In doing so, it illuminates the dark side of our modern day, multi-billion dollar sports and entertainment culture in which talented players are disposable—and all too often success and tragedy wear the same number.