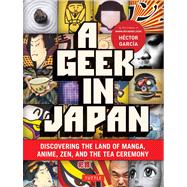 Note: Supplemental materials are not guaranteed with Rental or Used book purchases.
ISBN: 9784805311295 | 4805311290
Cover: Paperback
Copyright: 6/10/2011
For every fan of manga, anime, J-pop, or Zen, or anyone ever intrigued by these and other aspects of Japanese culture, A Geek in Japan is a hip, smart, and concise guide To The land that is the source. Comprehensive and well informed, it covers a wide array of topics in short, compelling articles accompanied by numerous sidebars and photographs, providing a lively digest of the society and culture of Japan. Designed to appeal To The generations of Westerners who grew up on Pokémon, manga, and videogames, A Geek in Japan reinvents the culture guide for readers in the Internet age. The author, a software engineer and self-avowed geek, moved to Japan in 2004 and soon after began to document the most startling aspects of his new home in a blog, kirainet.com. The blog gained steadily in popularity and eventually became one of the thousand most-read blogs in the world. The articles here have their source in the blog, but the book aims to be more systematic. Beginning with a brief history of Japan And The origins of the Japanese language, it ranges from touchstones of traditional culture like bushido, geishas, and Buddhism, Confucianism, and Shinto to chapters on traditional disciplines and arts like ukiyo-e, Zen meditation, ikebana, martial arts, And The tea ceremony; cultural code words and values; society and daily life; business and technology; the arts; and symbols and practices that are peculiarly Japanese. Several chapters are devoted to pop cultural genres, And The author pays due attention to stars, idols, and urban subcultures-otakus, gals, lolitas, visual kei, and cosplay-associated with them. For visitors To The country, he includes a mini-guide to his favorite neighborhoods in Tokyo as well as tips on other places of outstanding interest. Spotlighting the originality and creativity of the Japanese, debunking myths about them, and answering nagging questions like why they're so fond of robots, he has created the perfect book For The growing ranks of Japanophiles in this inspired, insightful, and highly informative guide.