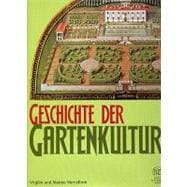 Note: Supplemental materials are not guaranteed with Rental or Used book purchases.
ISBN: 9783805342520 | 3805342527
Cover: Hardcover
Copyright: 11/1/2010
English summary: Paradise is a garden. The synonymous use of both terms has its roots in antiquity. The Greek name "paradeisoi" was used for the enclosed parks of the Persian kings and is still found today in the designation of the "garden paradise." Over 2,000 years of history of human domestication, design and use of nature are summed up in this work. Opulent images contribute to the text and make it clear why gardens, starting with the great empires of the Near East and Rome, the Italian Renaissance and French Baroque period, as well as ancient English parks and America's modern urban parks, always stimulate the senses of man. This book brings one on a visual journey through gardens, which developed in their own right according to their time and place. German text. German description: Sinnlichkeit pur: Zauber und Symbolik kultivierter Natur Das Paradies ist ein Garten: Die synonyme Verwendung der beiden Begriffe hat ihre Wurzeln in der Antike, in der griechischen Bezeichnung "paradeisoi" fur die umfriedeten Parks der persischen Grosskonige und findet sich noch heute in der Bezeichnung vom Gartenparadies. Weit uber 2000 Jahre einer Geschichte der menschlichen Zahmung, Formgebung und Nutzung der Natur fasst das vorliegende Werk zusammen. Nicht nur die opulenten Bilder machen deutlich, warum Garten beginnend bei den Grossreichen des Vorderen Orients und Roms, uber die italienischen Renaissance- oder franzosischen Barockgarten bis hin zu den englischen Antikenparks oder modernen Stadtgarten amerikanischer Metropolen stets alle Sinne der Menschen ansprachen. Das Buch macht Lust auf eine Reise mit den Augen durch Garten, die je nach Zeit und Ort eigene Formen entwickelten. - Opulent bebilderter Band fur Kunst und Geschichtsinteressierte sowie Gartenliebhaber - Geschichte des Gartens als Spiegel von Gesellschaft und Politik - Ein Nachschlagewerk zu den verschiedenen Gartenbaustilen - auch fur Einsteiger. Virgilio Vercelloni (1930-1995) war Professor fur die Geschichte und Archaologie und arbeitete als Architekt, Stadteplaner sowie als Landschaftsgartner. Matteo Vercelloni, Jahrgang 1961, studierte Architektur am Polytechnikum Mailand.