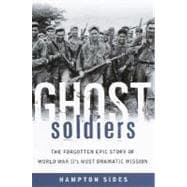 Note: Supplemental materials are not guaranteed with Rental or Used book purchases.
ISBN: 9780385495646 | 0385495641
Cover: Hardcover
Copyright: 5/15/2001
A tense, powerful, grand account of one of the most daring exploits of World War II. On January 28, 1945, 121 hand-selected troops from the elite U.S. Army 6th Ranger Battalion slipped behind enemy lines in the Philippines. Their mission: March thirty miles in an attempt to rescue 513 American and British POWs who had spent three years in a surreally hellish camp near the city of Cabanatuan. The prisoners included the last survivors of the Bataan Death March left in the camp, and their extraordinary will to live might soon count for nothingelsewhere in the Philippines, the Japanese Army had already executed American prisoners as it retreated from the advancing U.S. Army. As the Rangers stealthily moved through enemy-occupied territory, they learned that Cabanatuan had become a major transshipment point for the Japanese retreat, and instead of facing the few dozen prison guards, they could possibly confront as many as 8,000 battle-hardened enemy troops. Hampton Sides's vivid minute-by-minute narration of the raid and his chronicle of the prisoners' wrenching experiences are masterful. ButGhost Soldiersis far more than a thrilling battle saga. Hampton Sides explores the mystery of human behavior under extreme duressthe resilience of the prisoners, who defied the Japanese authorities even as they endured starvation, tropical diseases, and unspeakable tortures; the violent cultural clashes with Japanese guards and soldiers steeped in the warrior ethic of Bushido; the remarkable heroism of the Rangers and Filipino guerrillas; the complex motivations of the U.S. high command, some of whom could justly be charged with abandoning the men of Bataan in 1942; and the nearly suicidal bravado of several spies, including priests and a cabaret owner, who risked their lives to help the prisoners during their long ordeal. At once a gripping depiction of men at war and a compelling story of redemption,Ghost Soldiersjoins such landmark books asFlags of Our Fathers,The Greatest Generation,The Rape of Nanking,andD-Dayin preserving the legacy of World War II for future generations.