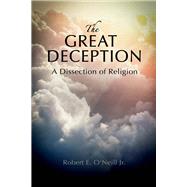 Note: Supplemental materials are not guaranteed with Rental or Used book purchases.
ISBN: 9781543912388 | 1543912389
Cover: Paperback
Copyright: 2/4/2018
Every religion considers itself to be the one "true" religion. But how can this be, when so many different religions exist? Deception strives to debunk and delegitimize the ubiquitous belief in concepts like God and Heaven by focusing on the superficiality of religion and supernaturalism. It examines the concept of religion, including where it originated and how it managed to spread across the world. It explores morality, life after death, the Christian Bible and other religious works, and rationalization of the concept of God.All religions boast the same foundation—the claim that God (or gods) has informed that religion's tenets and its mandatory prayers and protocols. Before one can honor any God, he or she must know how that God wants to be identified and glorified by humanity. It is always mandatory that God be glorified by his or her believers. But the overwhelming majority of human beings have never seen a god. So how can we know exactly how God wants to be worshiped? This query leads to the true solution to the seldom-asked question of why humans even espouse religions.All supernatural claims of religiosity are presented to you 'after the fact.' In Christianity, God personally interacted with Adam and Eve thousands of years ago. God personally discoursed with Abraham. God personally instructed Moses. Jesus was born a human being, yet he actually was the "Son of God." But we cannot know if the above biblical presentations are factual. All we can have is faith that these Biblically-recorded events are factual. Religion requires this blind faith. Those without it are doomed to an eternity of suffering.Once a magician reveals how his trick was performed, you no longer consider the trick as magic, or the performer as a magician. The goal of this book is to induce the same effect in the reader. If you are shown the flaws in unquestioning belief in religiosity, perhaps you will forego belief.