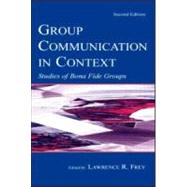 Note: Supplemental materials are not guaranteed with Rental or Used book purchases.
ISBN: 9780805831504 | 0805831509
Cover: Paperback
Copyright: 10/1/2002
The study of group communication has never been more critical, as recent national and international events point to the fragility of group life. An emerging perspective, the bona fide group perspective, offers hope for improving group communication, for it recognizes that any group--a family, community group, expedition team, social support group, organizational work group, interorganizational collaboration, or international team--must be studied and understood within the multiple contexts in which it is embedded and that significantly affects who is considered to be part of a group, what occurs within that group, and how that group interacts with other groups. In the second edition of his award-winning volume, editor Lawrence R. Frey showcases original research studies conducted on and about communication in bona fide groups, demonstrating the conceptual promise of the bona fide group perspective as realized in research practice. Divided into six sections, the chapters cover a wide range of new or relatively understudied groups--including youth community groups, Internet support groups, climbing expedition groups, families, neighborhoods, and school boards--and demonstrate the wealth of methodological approaches that can be used to study bona fide group communication--including survey methods, interviews, textual analysis, content analysis, participant observation, and discourse analysis. Group Communication in Context: Studies of Bona Fide Groups, Second Editionshows that the bona fide group perspective has the power to transform our thinking about groups and group communication and, in time, the practices in which groups and group members engage. The volume is intended for use in group communication courses, as well as a reference for group scholars. It is also appropriate for classes in psychology, social work, counseling, sociology, anthropology, and related disciplines.