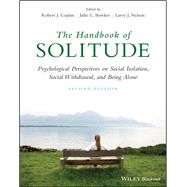 Note: Supplemental materials are not guaranteed with Rental or Used book purchases.
ISBN: 9781119576389 | 1119576385
Cover: Hardcover
Copyright: 4/20/2021
Learn more about the positive and negative psychological effects of solitude, isolation, and being alone in this expertly edited resource
It has never been more important to understand the impact of solitude. The newly revised and updated second edition of The Handbook Of Solitude: Psychological Perspectives On Social Isolation, Social Withdrawal, and Being Alone delivers another comprehensive academic volume of psychological research on the topic of solitude. This second edition includes a new organizational framework that considers both contemporary and emerging conceptual perspectives along with a more nuanced approach to the significance of context in the study of solitude. There is also an increased focus on clinical, developmental, and social psychological perspectives.
The latest edition also offers new discussions regarding recent trends in the positive aspects of solitude, including a new chapter on mindfulness, and provides more detailed coverage of the emerging impact of social media and computer gaming on psychological health and well-being across the lifespan. Scholars from across the world have contributed to this volume, coming from countries including Australia, Canada, China, Finland, Greece, Poland, South Korea and the USA, among others.
The editors offer a broad and complete perspective that will appeal to many disciplines within psychology, and the book provides accessible content that is relatively brief in length and edited to remove unnecessary technical jargon. The book also includes:
Lengthy discussions of historical and theoretical perspectives on solitude, including the phenomenon of social withdrawal in childhood
An exploration of the significance of close relationships, including with peers and parents, on experiences of being alone and psychological well-being
A treatment of the neuroscientific and evolutionary perspectives on shyness and social withdrawal
A comprehensive section on solitude across the lifespan, including expressions of shyness in infancy and childhood, the causes and consequences of playing alone in childhood, social withdrawal in adolescence and emerging adulthood, being single in adulthood, and isolation, loneliness, and solitude in older adulthood
A consideration of solitary confinement as an extreme form of social isolation
Careful cultural consideration of solitude and related constructs with new chapters on immigration and hikikomori
Perfect for advanced undergraduate and graduate level students taking a variety of courses in developmental, biological, social, personality, organizational, health, educational, cognitive, and clinical psychology, the second edition of The Handbook Of Solitude has also earned a place in the libraries of researchers and scholars in these, and related psychological disciplines.