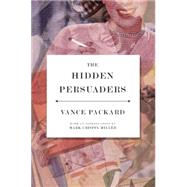 Note: Supplemental materials are not guaranteed with Rental or Used book purchases.
ISBN: 9780978843106 | 097884310X
Cover: Paperback
Copyright: 7/7/2007
This book . . . is about the large-scale efforts being made . . . to channel our unthinking habits, our purchasing decisions, and our thought processes. . . . The result is that many of us are being influenced and manipulated, far more than we realize, in the patterns of our everyday lives. "One of the best books around for demystifying the deliberately mysterious arts of advertising."-Salon.com "Fascinating, entertaining and thought-stimulating."- The New York Times Book Review Originally published in 1957, and now back in print with a new introduction by Mark Crispin Miller, The Hidden Persuaders is Vance Packard's pioneering work exploring the use of consumer motivational research and other psychological techniques, including subliminal tactics, by advertisers to secretly manipulate mass desire for consumer goods and products. Chronicling the many methods that advertisers use in their quest to manipulate the thoughts and actions of consumers, The Hidden Persuaders exposes how advertising floods our consciousness with images and symbols, operating as a mind-control operation to get us to buy the products it produces. The book also discusses advertising in politics, predicting the way image and personality would rapidly come to overshadow real issues in the televised age. Having sold over one million copies in its original printing, The Hidden Persuaders was the first book to expose how advertising and media attempts to control our thoughts and desires, and is more relevant than ever in today's super-saturated media world. Vance Packard (1914a__1996) was an American journalist, social critic, and best-selling author.